Parcel Services in hosur - Hosur
Friday, 23 October 2020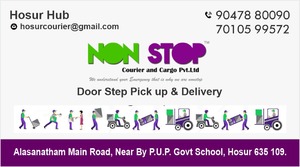 Contacts

Dinesh

9047880090
Item description

COntact 7010599572
We are South Asia's premier courier, and integrated express package Distribution Company. We have the most extensive domestic network covering over 25,498 locations, and service more than 220 countries and territories worldwide through our Sales alliance with nonstop courier and cargo Pvt ltd, the premier global brand name in express distribution services.

Our vision is to establish continuing excellence in delivery capabilities focused on the individual customer. In pursuit of sustainable leadership in quality services, we have evolved an infrastructure unique in the country today:

State-of-the-art Technology, endogenouslykalugu1 developed, for Track and Trace, MIS, ERP, Customer Service, Space Control and Reservations.

nonstop courier and cargo Pvt ltd dedicated capacity to support our time-definite morning deliveries through night freighter flight operations.

A countrywide Surface network to complement our air services.

Warehouses at 53 locations across the country as well as bonded warehouses at the 5 major metros of Bangalore, Chennai, Delhi, Mumbai and Hyderabad.

E commerce B2B and B2C initiatives including partnering with some of the prime portals in the country.